I'm proud to say I'm also an author and publisher…
Sister Poppy at the Front

by Brenda Gostling and Mik Richardson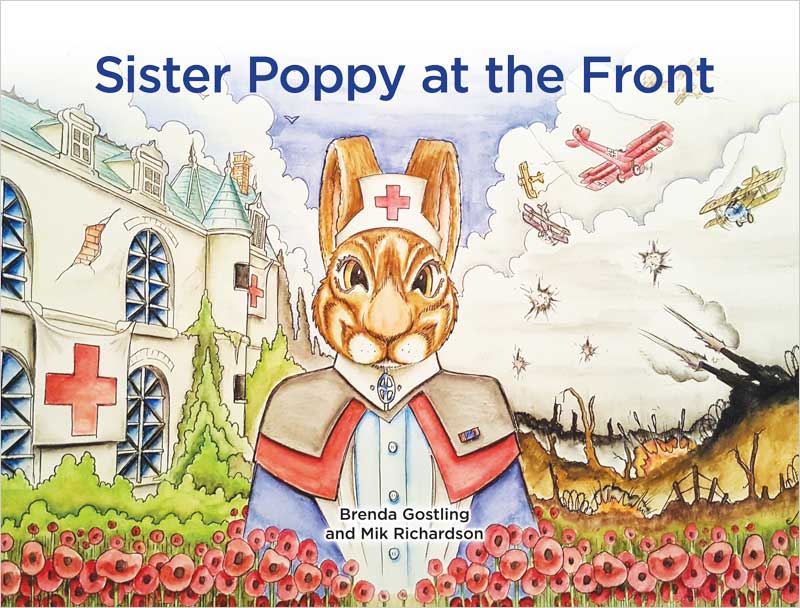 Inspired by Poppy the GoGoHare unveiled in November last year for the GoGoHares trail brought to Norwich and Norfolk by Norfolk children's charity Break in partnership with Wild in Art, "Sister Poppy at the Front" is a collaboration with Norfolk artist Mik Richardson.
Poppy is a nurse looking after wounded soldiers during the First World War.  The story gives a background to life during the war and focuses on one day in Sister Poppy's life.  On this particular day, Poppy's brother, Harry, who is a soldier in the Norfolk Regiment, is brought to the ward with a broken leg. Poppy helps to treat his wounds and together they read news from home.
The book is aimed at primary school children (age 5-11) and is deliberately educational, giving an insight into life – and death – on the front line.  It doesn't avoid the realities of wartime but is nonetheless gentle in its approach.
The illustrations have been provided by Norfolk artist Mik Richardson.  They are in watercolours and have a Beatrix Potter feel to them.  They have been carefully researched to give an authentic impression of life in France in 1914-1918.